Art and Crafts

OBJECTIVES
ART CAN HELP CHILDREN IN ALL AREAS OF DEVELOPMENT.
Physical Development
Children's large and small muscle development, as well as their eye-hand coordination can be developed in art. Using crayons, markers, and paintbrushes helps children practice the fine motor control.
Social Development
When children work together in the art area, they learn to share, to interact with others, to be responsible for cleanup, and to put materials away. These are positive and important changes for social learning.
Cognitive Development
They find out what happens when they mix two primary colors together and get a secondary color. Sending older children outside to carefully examine a tree, feel its bark, and study the shape and color of its leaves, and then asking them to draw or paint trees helps them develop observational skills needed for science.
Emotional Development
Through creative art, children may be able to represent experiences that they cannot verbalize. They may draw pictures out of proportion, exaggerating things that are important to them. When we value children's creativity, we help them feel valued as people, raising their self-esteem.
Imagination and Experimentation
Children's active imaginations can take form through art, as well as experimenting with different materials.
Classes
All learners from Grade 1 to Grade 6 attend art classes as part of the Caps Curriculum which we follow in Sunridge Primary School.  In Grade 7 the learners have a choice to choose two of the four disciplines of Creative Arts as stipulated in the Caps document.
Extra fine art and craft classes
Tuesday afternoon :  14:30 to 15:30  Craft classes
Wednesday afternoon:  14:30 to 15:30 Fine arts
The objective of these classes are to give the learners the opportunity to do crafts like pottery, mosaic, pewter and beading to name a few.    
NUMBERS of these classes
We have about 30 to 36 learners per class per afternoon.
Exhibitions
We take part in exhibitions and art festivals in and around Port Elizabeth and showcase our own school exhibition.
Visuele Kunste
2016
Die Despatch Kunstefees het hierdie jaar van 9 tot 13 Mei plaasgevind .  Sunridge het deelgeneem en 37 prente ingestuur.  Die leerders het baie goed gevaar en 11 goue en 26 silwer sertifikate huis toe gebring.  Die terugvoering van die beoordelaars was goed en opbouend.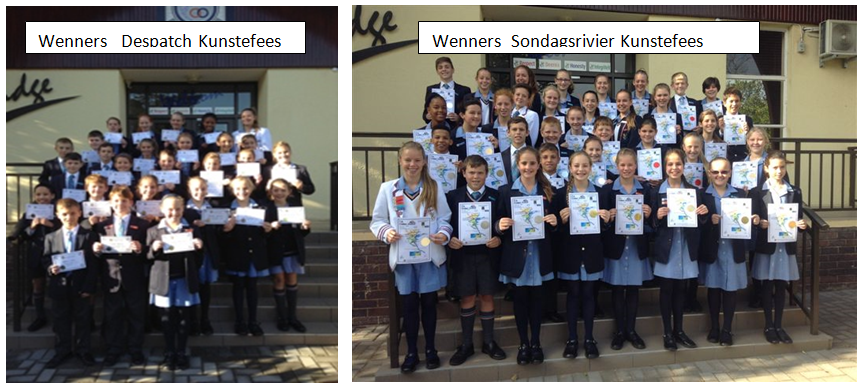 In die derde kwartaal het ons ook aan die Kuns en Kultuurfees in  Sondagsriviervallei deelgeneem.  Die fees is deur Laerskool Sondagsrivier aangebied.  Ons het 51 prente ingestuur en het met 21 goue-, 24 silwer- en 6 bronswenners gespog.  Ons leerders is vir hulle werk geprys.
In die derde kwartaal het ons ook aan 'n uitstalling in Uitenhage deelgeneem wat deur die Departement van Onderwys van die Oos Kaap aangebied is.
Die Graad 7-leerders wat Visuele Kuns as vak neem, het ook aan die Lions International Peace Poster Contest, wat jaarliks deur Lions  aangebied word, deelgeneem.  Luke Oberholster, Braydon Kilian, Anya Weyers, Clarise Moolman en Jenna Greef is deur die beoordelaars  van MMNU gekies om die skool by die uitstalling in die GFI Gallery  op 18 Oktober te verteenwoordig. Anya Weyers het weggestap met die eerste prys in die 104D Disktrik en Luke Oberholster en Jenna Greeff het albei een van die nege merietetoekennings gekry.  Sunridge spog met 3 prente op die Lions se 2017 kalender.

Visuele Kunste
2017
Sunridge leerders het in die afgelope jaar aan die Kunstefees by Hoërskool Pearson in Somerstrand en aan die Sondagsriviervallei Provinsiale Kuns en Kultuurfees by Laerskool Sondagsriviervallei deelgeneem.  Albei feeste was besondere geleenthede en ons leerders het baie goed presteer.
Ons het een-en-twintig prente na die Kunstefees by Hoërskool Pearson gestuur.  Vier leerders het Diplomas met lof ontvang.  Vyf het goud ontvang, sewe silwer en vyf leerders brons.  Ons het ook vyftig prente na die Kunstefees by Laerskool Sondagsriviervallei gestuur.  Veertien leerders het medaljes ontvang, elf leerders goud, twee-en-twinting silwer en drie brons.  Ons is baie trots op die leerders se prestasies en die terugvoer wat ons van die beoordelaars ontvang het.  Die skool het ook 'n sertifikaat ontvang vir een van die skole wat die meeste inskrywings oor die langste tydperk ingestuur het.
Die Graad 7-leerders wat Visuele Kuns as vak neem, het ook aan die Lions International Peace Poster Contest, wat jaarliks deur die Lions aangebied word, deelgeneem.  Ons spog die jaar met twee merietewenners in Distrik 104D: Catherine Paul en Daniel Putzier.  Die skool is baie trots op hierdie leerders.  Hulle werk is in die GFI Gallery in Parkrylaan uitgestal. Daarna het die prente na Graaff-Reinet gereis en is daar uitgestal.  Hierdie twee leerders se prente sal ook op die Lions se 2018-kalender pronk.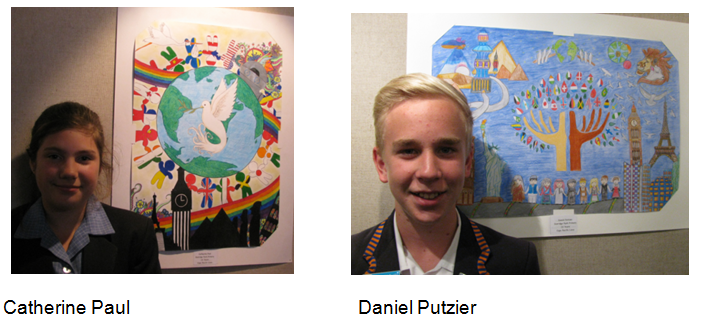 Ons het leerders wat aan die kunskompetisie by Moffett on Main gaan deeleem.  Die onderwerp is Ons vriendelike Stad.  Die uitslae is ongelukkig nog nie bekend nie.
Ons het 'n groot kunsuitstalling aan die einde van Oktober aangebied.  Dit is ons Sonskyn-skool se vyftigste verjaarsdag en ons het dit onder andere met 'n kunsuitstalling en musiekaand gevier.  Ons het van ons oud-leerlinge gekontak en van hulle kunswerke is ook uitgestal.  Ons het 'n groot kunsprojek aangepak deurdat elke leerder 'n gesig geteken het wat dan uitgestal is in klasse. Die projek was 'n groot sukses.  Die versameling gesigte sal later in die skool opgehang word.